CREATING SPACES TO CHANNEL OUTRAGE INTO ACTION. SHIFTING CULTURE THROUGH DAILY ACTIONS.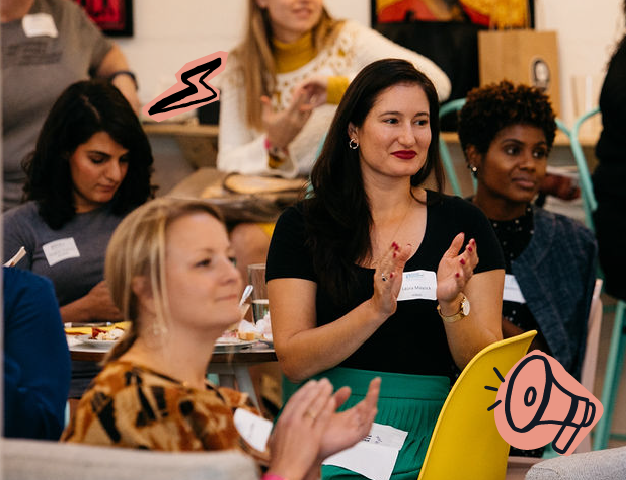 MEMBERSHIP SUSTAINS THE OUTRAGE
Your membership contributions allow The Outrage to provide the community, space and educational programming that has unlocked a groundswell of civic activism and community care. As a grassroots organization we count on support from nobody but you.
In the past year alone, membership support has allowed us to: 
〰️ Deliver 100k+ donations to folks in need 
〰️ Foster civic engagement among our community of 250k+ including 100k+ who used our educational materials online and 50k+ who engaged via our events and in-person programming
〰️ Offer dedicated physical space to gather, support each other, and organize
And there's so much more work to do. Join us.
Custom content

CONSCIOUSNESS RAISING
-
Programming – Our events and workshops can range in size (12-250 people), content (debates to dance parties) and hosts (drag queens to US Senators) but they're similar in that each contains a component that is a call to action, and often an invitation to support your fellow community members.
Issue pages — Our curated, up-to-date resources have served as an indispensable resource for over 100k individuals seeking to understand key issues, engage with organizations doing the work, and take their activism to the next level.
COMMUNITY BUILDING
-
Community space – We've created a space to support the cross-pollination of different progressive causes, all rooted in the same values, and geared towards action.
Support community partners – Membership allows us to support rapid response needs and subsidize our space for our network of 250+ grassroots orgs + community partners.
Exhibitions – We know art is the glue of the community and we maintain a rotating exhibition space, currently featuring The COVID-19 Memorial Project, an exhibit honoring lives lost and inviting collective grief and healing.
Engagement + Action
-
Calls to action – Every Wednesday, we invite our community of 250k activists to engage in meaningful, practical and impactful civic actions.
Our mutual aid hub – Membership helps fuel our mutual aid hub where we teach people about mutual aid and how to give and get support.
IRL activation points – From our call your reps phone booth to our voter registration and education station, we're providing tangible touch points for whoever walks into our space to meaningfully engage in five minutes or less.
A VALUES-BASED ECOSYSTEM
-
We believe that how we do the work is just as important as the work that we do, and membership is an active statement that our values are non-negotiable as we create a more just society for all.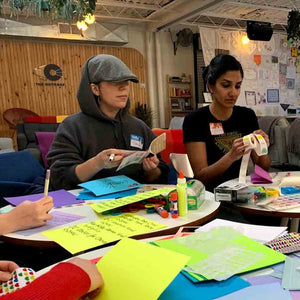 "One of the most vital ways we sustain ourselves is by building communities of resistance, places where we know we are not alone."
— bell hooks
Help me understand… what's the purpose of a monthly membership?
-
We're all about sustained engagement, including sharing resources. We believe that this work will require all of us to figure out how to regularly share our resources to our local abortion funds, mutual aid groups, and other organizations working to build the world we want to see. Monthly memberships give us the flexibility to plan ahead and proactively support our community, actively combat scarcity mindset, and consistently show up for you, so that you can consistently show up in your organizing and activism.
I'm a regular shopper at The Outrage and love that y'all donate 100% of your profits. Can you explain why you are also fundraising?
-
Thanks for being a loyal shopper! We fundraise because feminist merchandise is one facet of our work, and we're building a self-sustaining model that does not rely on consumption to fuel social change. We utilize membership as a key tool in our toolbox, because we believe funding works best when it's done by us, for us. This means we're asking you for an ongoing commitment to fight alongside us as we harness the power of sustained civic engagement and build a more just society for all.
Why should I donate to a business?
-
It's no secret that our origins are connected to our merchandise, so when folks think about us, the first thing that comes to mind may be feminist apparel. We're proud of our origins AND our work and impact has grown so much since then!
I don't even live in DC… why should I become a member?
-
Membership at The Outrage is an active statement that:

You want progressive spaces and the values they represent to exist in the world.
You're committed to the long walk towards freedom and seek to actively dismantle harms in your community.
You utilize The Outrage and its related resources to inspire your praxis or study as an organizer, facilitator, consultant, teacher, staff, etc.
You understand that sharing your resources to sustain hubs and fuel an intersectional community is essential for movement building work.

Whether you're a vital member supporting from afar or using our spaces daily, your support fuels the resistance.
I was previously a member before COVID-19. What's changed?
-
Our previous membership was deeply connected to our physical space, and as the answers above state – we're trying to do something different! Membership is a means to support our work. P.S. Folks are generally welcome to pop into our physical space in DC if they want to come chill, meet a friend, or a spot to work for the day. Peep our event cal for major conflicts or you can always email us with more questions!
How do I know what level to give at? / What tier should I select?
-
$5/mo: You've contributed to your local mutual aid orgs and have a couple extra bucks a month to fund key movement building work.
$15/mo: You put your time, money, and energy into the things that feed your spirit. Your giving at this level reflects the value and support we have brought to you and the work you do.
$30/mo: You believe in the value of The Outrage and support by donating on average $1/day to building a hub for activism.
$50/mo: You have access to money, or middle-class privilege, and understand that redistributing your funds to sustain hubs is essential for movement building work.
$75/mo: Your praxis is inspired by The Outrage and its related resources. Giving at this level reflects the reciprocal practice of our work together.
$100/mo: You have access to monetary resources, and see the opportunity to contribute your funds toward fueling an intersectional community as an obligation.
I can't afford membership at this time. How can I still support y'all?
-
We totally understand! And lucky for you there's tons of ways to support —

Follow us on social media and engage with our content – like, share, and comment!
Sign up for emails and texts.
Make us your go-to Bookshop IRL or when ordering online.