CREATE AFFORDABLE, COMMUNITY-CONTROLLED, SOCIAL HOUSING FOR ALL

DE-COMMODIFY HOUSING AND REGULATE WALL STREET

ENSURE ALL HOMES ARE HEALTHY AND SUSTAINABLE BY PROMOTING CLIMATE RESILIENCY, CLEAN AND RENEWABLE ENERGY, AND SAFE AND AFFORDABLE WATER SYSTEMS

ENSURE FEDERAL DISASTER RECOVERY EFFORTS ARE FAIR AND EQUITABLE

FIGHT GENTRIFICATION AND PROTECT RENTERS AND MORTGAGE HOLDERS FROM DISPLACEMENT.

FULLY FUND THE LOW INCOME HOME ENERGY ASSISTANCE PROGRAM (LIHEAP) TO HELP FAMILIES PAY FOR RISING ENERGY COSTS.

PROTECT UNHOUSED NEIGHBORS AND OPPOSE LEGISLATION CRIMINALIZING HOMELESSNESS

PROTECT AND EXPAND THE NATIONAL HOUSING TRUST FUND

PROVIDE REPARATIONS FOR CENTURIES OF RACIST HOUSING AND LAND POLICY AND INDIGENOUS LAND THEFT.

STRENGTHEN AND ENFORCE FAIR HOUSING LAW.
PROCEEDS BENEFIT ORGS FIGHTING FOR HOUSING JUSTICE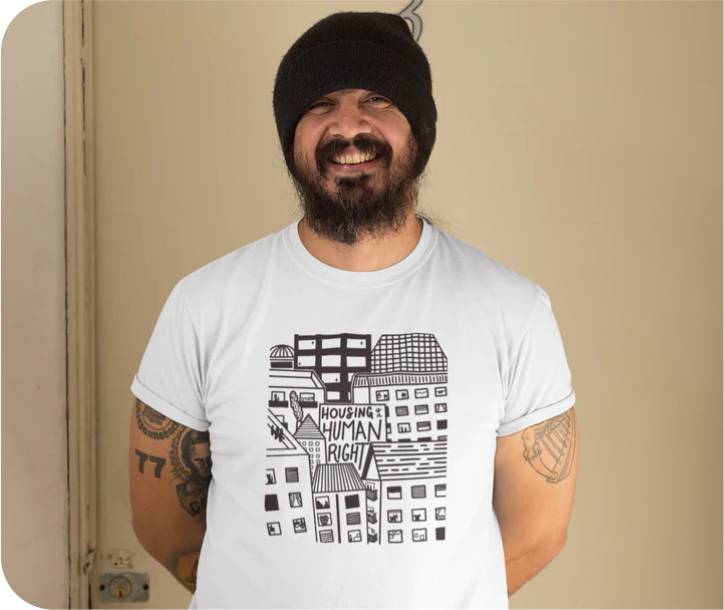 "Housing is a human right. There can be no fairness or justice in a society in which some live in homeless, or in the shadow of that risk, while others cannot even imagine it."
JORDAN FLAHERTY


Immediate Actions To Take:
+
Organizations To Support + Follow:
+
Educate Yourself + Keep Showing Up:
+
Articles — 

Affordable Housing articles —

Curbed

Affordable Housing Forever — Michael Friedrich via

NYTimes

Anti-Homeless Laws Across the U.S. Criminalize Survival — Cassandra Brandt via

Foundation Beyond Relief

Barriers to Housing for Justice-Involved Persons —

NLIHC

Between a Rock and a God Place — Theo Whitcomb via

The Baffler

 

Community Land Trusts —

Grounded Solutions Network

Elements of the Democratic Economy: Community Land Trust — Jarrid Green via

The Next System Project

Elements of the Democratic Economy: Limited Equity Housing Cooperatives — Jarrid Green via

The Next System Project

Elements of the Democratic Economy: Resident-Owned Communities — Jarrid Green via

The Next System Project

How Gentrification Reproduces Racial Inequality — Jackelyn Hwang and Lei Ding via

Work in Progress Sociology

How Moms 4 Housing Changed Laws and Inspired a Movement — Erin Baldassari and Molly Solomon via

KQED

How the Pandemic Threw Fuel on a Growing Housing Movement — Bryce Covert via

The Nation

Lack of Housing Is Not the Problem — Andrew Lee via

Yes! Magazine

Low-Income Households Deserve Full Funding from LIHEAP —

CAP

NO SAFE PLACE: The Criminalization of Homelessness in U.S. Cities —

The National Law Center on Homelessness & Poverty

Now Is the Time to Take Radical Steps Toward Housing Equity — Chris Tittle via

Yes! Magazine

Preserving the History of People-Powered Housing —

UHAB Archives

Security Deposit Insurance Isn't the Kind of Housing Support Baltimore Renters Need — Marceline White and Tiffany Ralph via

Baltimore Sun

 

The Conquest of Bread book, Chapter 6 Dwellings

The Criminalization of Homelessness: Explained — Bidish Sarma and Jessica Brand via

The Appeal

 

The Ghosts of Progress: Parasite Parallels Life in Silicon Valley's Self Proclaimed Capital: San José — Daniel A. Gonzalez via

Silicon Valley De-Bug

The Rise and Fall of New York Public Housing: An Oral History — Luis Ferré-Sadurní via

NYTimes

 

The Tenants Who Evicted Their Landlord — Matthew Desmond via

NYTimes

Unequal Displacement: Gentrification, Racial Stratification, and Residential Destinations in Philadelphia — Jackelyn Hwang and Lei Ding via

American Journal of Sociology

We Shall Not Be Moved — Audrea Lim via

Harper's Magazine

When Private Equity Becomes Your Landlord — Heather Vogell via

ProPublica

Why Government Housing Vouchers Can Be Difficult to Use — Pam Fessler via

NPR
NOTE: Our focus areas are informed by community input. If there is an issue you'd like to see included or would like to share input, please email us at community@the-outrage.com with questions, comments, or concerns on our 2022 focus areas. We'd love to hear from you.
This is an incomplete and growing list. Last updated Apr 1, 2022.